Master Moderator Naomi Henderson In the House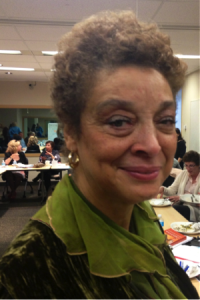 I get a few perks as a Chapter Chair for QRCA in Toronto. One is the chance to wine and dine our incoming speakers.
I had the delicious experience of having dinner with Naomi Henderson prior to the workshop we hosted in Toronto on September 27 – Secrets of a Master Moderator. Naomi and I shared a magnificent meal at One – an exceptional Yorkville hangout for foodies and celebrities alike (I'm the foodie, she's the celebrity!) Sitting outside, taking in the buzz of this very hip neighbourhood, I was entranced by Naomi's stories.
She talked from the trenches and from her deep knowing about how life has a way of moving us in different directions and opening our hearts. Despite our different backgrounds, we found our paths intersecting in wonderful ways. On family, we found her father was the first black helicopter pilot in the US Forces, while my sister was the first female Canadian Naval officer stationed on board a ship – discrimination challenged! On work, we discovered how both of us started on the quantitative side of the business and how qualitative opened our eyes to how to do all research better. Life's choices, struggles and rewards were explored and perhaps seen a little more clearly. I walked away grateful for her fresh and inspiring perspective and reminded of how lucky I am to be doing the kind of work I do.
The next day, Naomi's workshop was equally inspiring, with tangible ideas for optimizing our sessions, maximizing openness, and wrangling those difficult respondents and cohorts – from opinionated lawyers to the most dreaded teenage girls. Tip: Have them text you their responses in real time to warm them up!
Thank you Naomi for your generousity, wisdom and open heart. I feel blessed to have shared such an exquisite connection with you.
Check out Naomi's book Secrets of a Master Moderator, available at rivainc.com.