MAGNIFICENT INDIA
Monday, March 10, 2014 | Posted in Inspiration
Savour not strive. This idea runs so counter to our corporate-minded culture. Yet it was my key takeaway from two weeks at a retreat in the serene hills of South India  followed by a week in the fast-paced and sprawling metropolis of New Delhi.
To let go of striving is no small feat, given a lifetime of seeking insights and an energy level that keeps me flying, not grounded. Settling into daily yoga, meditation and Ayurvedic treatments was, ironically, difficult. Stopping the need to 'do' and discovering how to 'be' was a huge step – not forward, not backward, but into the moment, into the now.
Once I let go of the need to hike to the wildlife preserve (see selfie), explore the jungle, encounter a wild elephant, and visit the local town, I was able to settle and truly savour my surroundings. It became easier to immerse myself in the magnificent vegetarian food, the beautiful yoga and meditation sessions, the Hindu pujas (ceremonies), the healing bodywork, and the delicious stillness and silence.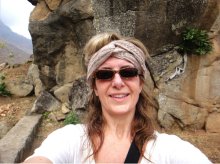 By the close of the retreat, I was truly serene and seemingly ready to 're-enter' a busy life. However, arriving in New Delhi was, not surprisingly, jarring!
Hosting by my former client and dear friend Raji Bonala softened the transition back to business (see selfie of Raji and I). Raji and her husband Satya, also a researcher, left Toronto to return to India about six years ago and have set up a full-service research agency in Delhi. I visited their offices, met with their wonderful staff, and did a talk on North American Research Trends and Technology. Raji and I also discussed ways of incorporating Ayurvedic Psychology, Mindfulness and Yoga into research – an opportunity that needs more soak time to truly optimize.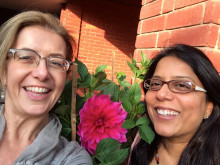 It was fascinating to learn more about the impact of socio-demographic factors and methodological challenges on research in this vast and multi-faceted country. Their insights into societal differences, coupled with some local touring, left me feeling better prepared for an exciting, upcoming initiative … and another chance to be in this magnificent place!